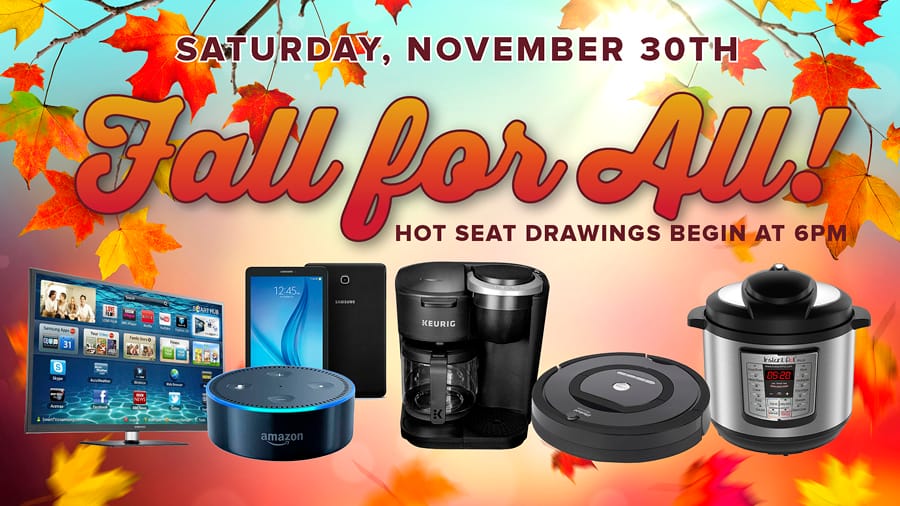 28 Oct

Fall For All

The promotion will be held on Saturday, November 30th, 2019.

Hot seat drawings will begin at 6:00 pm and run every 30 minutes with two winners each 30 minutes up to and including 10:30 pm for a trip to the Punch Board. Each cavity on the punch board will have a small gift with a prize voucher taped to the bottom. A total of 20 prizes will be given away. Prizes will be as follows:

           2 – Samsung 55" 4K Ultra HD Smart TV (estimate $800 each)

           3 – Roomba Robot Vacuum (estimate $300 each)

           3 – Samsung 9.6" Galaxy Tab (estimate $250 each)

           3 – Instant Pot 8 quart (estimate $200 each)

           3 – Keurig K-Duo (estimate $100 each)

           6 – Amazon Echo Dot (estimate $50 each)
Players must earn 10 points and be actively gaming the day of the drawings to be eligible for any of the drawings.
Must be present to win.
Must be a member, in good standing, of the Players Club to be eligible for the drawings.
Only one winner per evening. Anyone drawn a second time will be passed and another winner will be chosen.
See a complete list of rules at the Players Club