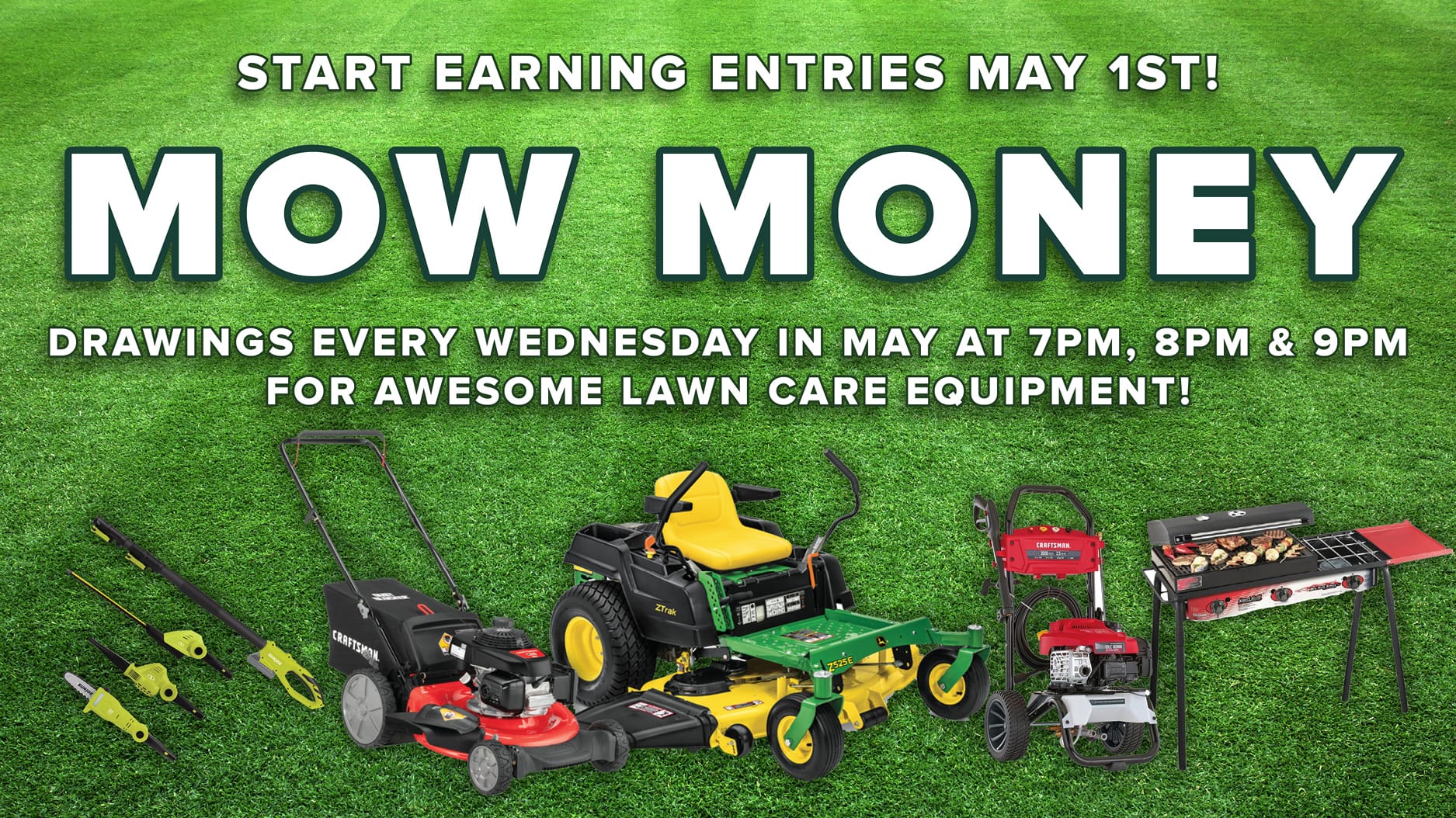 01 May

"Mow Money" Lawn Care Giveaway
Join Us Every Wednesday in May
Begin earning electronic entries at 9:00 AM on Wednesday, May 1st through Wednesday, May 29th. One entry will be earned for every point earned on your Players Club cards.
Extra entries may be earned every day, after earning 1 point on the Players Club card by playing the Pick 3 game on the Players Club kiosk. There is one located at the west entry and one on the north wall near the cashier cage. The Players Club staff is also walking the floor with a portable tablet. Just look for the staff in the green shirts. They can help you!
Every Wednesday in May (5/8, 5/15, 5/22, & 5/29) electronic drawings will be held for lawn care equipment.
Participants are required to have earned 5 points for that day of play and be actively gaming at the time of the drawing to be eligible to win.
Electronic drawings will be held on the 8th, 15th & 22nd as follows:
7:00 PM – Sun Joe 24-volt cordless lawn care system
8:00 PM – Walk Behind Mower
9:00 PM – Craftsman Power Washer
Then on the final Wednesday, the 29th, one electronic drawing will be held at 8:00 PM for the Camp Chef propane grill and all its' accessories and at 10:00 PM an electronic drawing will be held for the John Deere ZTR riding lawn tractor.
Players must earn 5 points the day of the drawings to be eligible for any of the drawings.
Must be present to win.
Must be actively gaming when your name is called
Must be a member in good standing of the Players Club to be eligible for the drawings.
Only one winner per evening and only one winner per prize. Anyone drawn a second time shall have their name announced as a previous winner.
A complete set of rules is available at the Players Club.