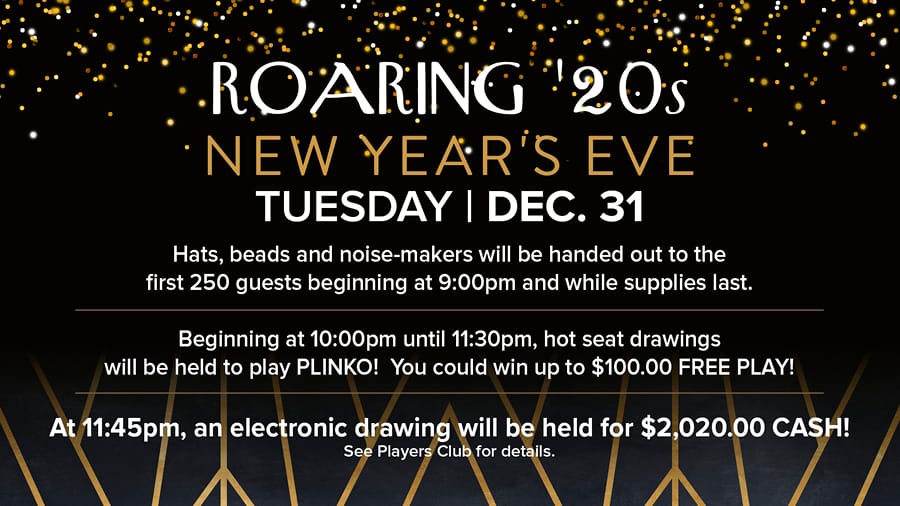 19 Nov

Roaring 20's New Year's Eve

New Year's Eve is Tuesday, December 31st.

Hats, beads & noise makers will be handed out to the first 250 guests beginning at 9:00 PM and while supplies last.

Beginning Sunday, December 1st at 9:00 AM until 11 PM on Tuesday, December 31st, Players Club members will earn one electronic entry for every 1 point they earn on their Players Club card; double entries every Sunday.

On Tuesday, December 31st Senior Day events will be held as usual. We will extend the Plinko hot seat drawings to everyone beginning at 10:00 PM and every 30 minutes until 11:30 for a chance at $100.00 Free Play. Players Club Members must have earned 5 points the day of the hot seat drawings to be eligible to win a Plinko hot seat.

At 11:45 PM an electronic drawing will be held for $2,020.00 CASH!
Players must earn 5 points the night of the drawing and be actively gaming to be eligible for the drawings.
Must be present to win.
Must be a member, in good standing, of the Players Club to be eligible for the drawings.
Winning any Senior Day drawing or Plinko hot seat drawing does not preclude anyone from winning the grand prize drawing. pic